Rainwater filter
On this page you can buy the best rainwater filters to filter and purify your rainwater. Rainwater is a sustainable and environmentally friendly way to water your garden and home. With a rainwater filter you can ensure that the water you collect in your rain barrel or catch basin is suitable for drinking and to use for your toilet, washing machine, garden and other purposes. Order your rainwater filter now and take advantage of the sustainable benefits of rainwater.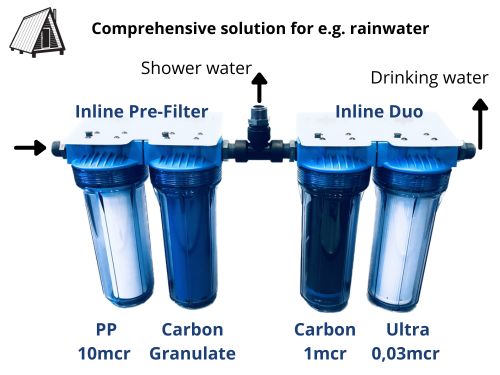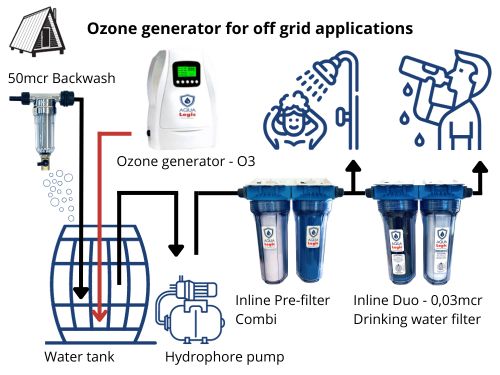 What is a rainwater filter?
A rainwater filter is a device used to filter and purify the rainwater you collect. The purpose of a rainwater filter is to make the water you collect clean and suitable for use in your home and garden. There are different types of rainwater filters available, depending on what you want to use the water for. For example, if you are looking for a filter to make the water safe to drink, you will need a different type of filter than if you want to use the water for your washing machine. A rainwater filter can be connected to your rain barrel or catch basin, or on the roof of your house to filter the rainwater directly.
Rainwater filters
What kind of filter material is used when filtering rainwater?
There are several types of filter material available to filter rainwater. The most used material is activated carbon, which filters fine particles and dirt from the water. Other materials used are microfiber, ceramic granules and sand. Which material is best suited depends on the purpose for which you want to use the rainwater and the quality of the water you collect. It is therefore important to look carefully at the specifications of the filter material when buying a rainwater filter.
Rainwater filtering
Can you drink water from the rain barrel?
In principle, you can drink water from the rain barrel, provided the water meets certain hygiene standards. However, it is important to note that rainwater often does not meet these standards because the water is exposed to various contaminants once it falls to the ground. For example, rainwater can be contaminated by dust, leaves, bird droppings, air pollution and other substances. To make the water from the rain barrel suitable for consumption, it is therefore advisable to filter and purify the water using a rainwater filter or other water purification system. This way you can ensure that the water meets sanitary standards and is safe to drink.
Rainwater purification
Safe and purified water accessible to all
At Aqualogic, we believe that everyone has the right to access safe and purified water. That's why we are committed to humanitarian projects to provide people with water purification technology and knowledge. Whether it's setting up rainwater filtration systems for local communities or building a water treatment plant for an orphanage, we want to do our part to ensure a better future for everyone. Through our expertise in treating rainwater and other water, we can help people gain access to clean and safe water for consumption and use in everyday life. In this way, we hope to have a positive impact on the quality of life of people around the world.
Rainwater filtration system
There is a difference between a simple water filter and a rainwater filtration system. A simple water filter is usually a single unit placed on the faucet and is designed to filter small amounts of water, such as the water you drink or boil. A rainwater filter system, on the other hand, is designed to filter larger amounts of rainwater, such as the water collected in a cistern or cistern. Rainwater filtration systems can be integrated into the water pipes of a home or building and are often designed to filter rainwater before it is used for plumbing, washing, cooking or other purposes.

A stormwater filtration system may consist of a combination of different filters, depending on the specific needs of the system. Some systems use physical barriers, such as strainers or carbon filters, while others use chemical agents, such as chlorine or ozone, to remove contaminants from the water. Rainwater filtration systems may also use UV light or ozone to purify the water. The purpose of a rainwater filtration system is to filter and purify rainwater before it is used so that the water we drink and use is safe.
Rainwater filter for at home
There are several advantages to filtering rainwater at home:
First, it can help reduce the amount of wastewater sent to sewers or sewage treatment plants. By filtering and reusing rainwater, you can help conserve water resources and reduce the amount of water needed to meet household needs.
Second, filtering rainwater at home can also help save costs. By using rainwater for plumbing, washing and other purposes, you can depend on less city or county water, which can lead to lower water bills.
Third, filtering rainwater at home can also help improve water quality. As mentioned earlier, rainwater can contain contaminants and impurities that can be harmful to your health. By filtering rainwater before you use it, you can remove these substances and ensure that the water you drink and use is safe.
Fourth, filtering rainwater at home can also help improve the taste of the water. As mentioned earlier, rainwater can sometimes have a foul odor or taste, which can come from collecting roofing materials, leaves and other debris. Filtering the rainwater can help reduce this odor and taste, making rainwater more pleasant to drink.
Change rainwater filter
It is important to have your rainwater filter replaced with a high-quality filter at all times, such as Aqualogic's filters. Depending on your level of use, you may need to change the filter regularly to ensure that the water you drink and use is safe. A dirty or outdated filter can be less effective at removing contaminants and impurities from the water, which can lead to less safe drinking water. Replacing a rainwater filter is a simple process that can be done by a professional or by the user himself, depending on the type of filter and the filtration system.

It is advisable to check regularly to see if the filter needs to be changed and to replace the filter on time if necessary. By regularly changing the filter, you can ensure that the water you drink and use is safe and of high quality. If you are unsure whether it is time to change the filter, contact a professional or consult the filter system manual for additional information.