Water filter RV
Are you looking for a water filter for your RV? Then you've come to the right place! On this page you order the best RV water filters, so you always have access to clean and safe drinking water while on the road. Check out our selection and order your RV water filter today. This way you are always assured of the purest water during your trip!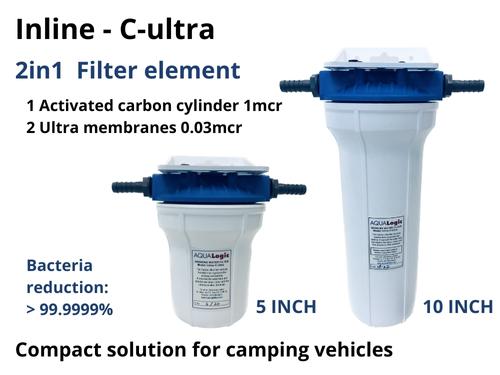 Water filter for RV
On our web shop you can easily buy or re-order a RV water filter to replace your current one. Our experts are happy to help you if you have any questions or if you can't figure it out yourself. So we are happy to help you find the right water filter for your RV.
Water filter system RV
Inline drinking water filter for motorhomes
Our inline water filters for RVs are frequently used by travelers in special circumstances. For example, they do not always have access to completely clean water, but with our Aqualogic filters they can still consume safe drinking water. This is because our ultra-membrane filters achieve a bacterial reduction of 99.9999%, which means that the water is almost completely free of bacteria. So you can be sure you won't catch any diseases during your trip.
Showering with an RV water filter
We recommend installing an extra faucet in your RV water system if you also want to use the water filter while showering. Showering forces much more water through the filters and the elements need replacement much sooner. If the shower water and drinking water are separated, however, this can be avoided. Shower water will then only be pushed through the activated carbon filter, which lasts longer, and not through the ultra-membrane filter. Drinking water will flow through both. Please feel free to contact us so that we can advise you on this. Filtering water on a RV has never been easier.
When should I replace the RV water filter?
How long a water filter lasts depends on the type of filter and how dirty the water being filtered is. The dirtier the water (e.g. ditch water), the sooner the filter elements become clogged and thus need to be replaced. Our experts are ready to answer any questions about drinking water filters for RVs, so don't hesitate to contact us if you have any questions about replacement or maintenance of your water filter. This way you can always be assured of the best drinking water in your RV during your trip!