Inline water filter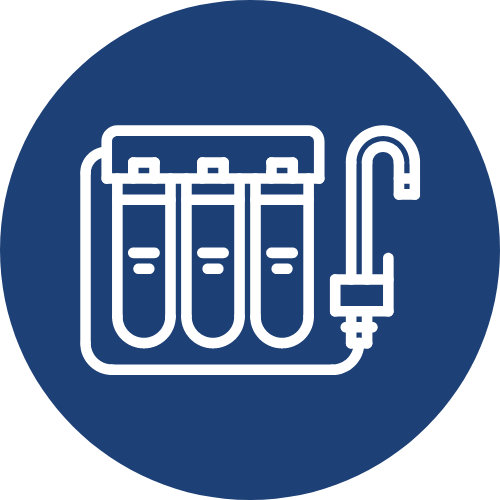 The Aqua Logic (built-in) Inline Water filter can be mounted on an existing water pressure system. The inline filter has a very low pressure drop, making it very suitable for pleasure yachts, campers and caravans that are often equipped with simple pressure pumps.

Applications are self-sufficient tiny-homes, offgrid houses, caravans, campers, pleasure yachts or situations where the regular water supply is not reliable. For example through pollution and/or contamination of drinking water.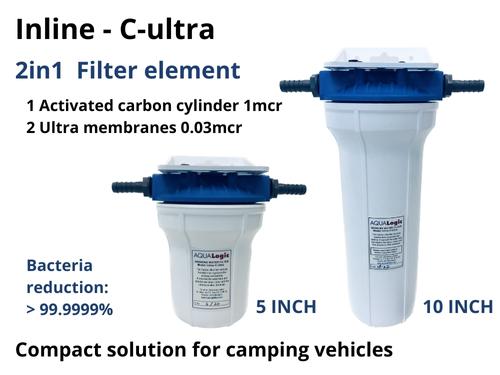 Inline Water Filters
We have a diverse selection of inline water filters. These filters are built with various needs in mind, which means you can find the perfect size and type that suits your home, caravan or RV. We offer inline liquid filters in different sizes to match the volume of water you need to purify. The filters are suited to withstand various conditions. So, we've designed robust pre-filters that ensure your primary filter has a longer lifespan by removing larger contaminants before they reach the main filtration unit. For the filtration itself, we provide different techniques such as carbon and ultra membrane filters. Carbon filters are particularly useful for eliminating chemicals like chlorine and enhancing the water's taste, while ultra membrane filters, with their minute pore size, efficiently catch bacteria, guaranteeing safe drinking water.
Inline Water Filter for Home
For homeowners who want clean, safe water, the Aqua Logic inline water filter for home use is an ideal choice. They are popular for tiny homes and eco-friendly houses, these built-in water filters offer a compact yet effective solution to meet your daily water needs. The compactness makes them ideal for space-restricted settings such as a tiny home, and their environmentally-friendly design aligns perfectly with the ethos of eco-friendly living. Plus, installation is easy, making these filters a convenient option for ensuring a continuous supply of purified water straight from your tap.
Inline Water Filter System
Our inline water filter system is a comprehensive solution specifically designed to purify rainwater, making it an excellent choice for caravans and other mobile living homes. Here's how it works: rainwater first passes through our inline pre-filters, which contain 10-micron PP and carbon granulate. These components work together to remove larger contaminants, providing water that is clean enough for showering and other non-drinking purposes. For those seeking purified drinking water, we have an additional stage: the same water flows through an extra carbon and ultra membrane filter. This filter, with its minuscule 0.03-micron pore size, effectively removes smaller impurities such as bacteria and viruses. Our inline drinking water filter ensures you always have access to safe and refreshing water, no matter where your journey takes you. It's the ultimate inline water filter for caravans, campers, and other off-grid living situations.
Replace Inline Water Filter
While our inline water filters are designed to last, they will eventually require replacement - particularly if they process dirtier water than rain water. The easiest way to determine when it's time to replace your inline water filter is to inspect the filter elements. Over time, as the filter traps contaminants, the filters can become clogged and your water purification system won't let any water through anymore. Should you notice a significant accumulation of dirt or reduced water flow, it's time to order a replacement. Remember, regular maintenance is key to ensuring the longevity of your water filter system and the quality of your water. Let us know when you are in need of replacements or advice in any way.