Boat water filter
Looking for a boat water filter? On this page you will find a wide selection of water filters specifically for boats. Whether you are looking for a new water filter or want to replace your current one, we have what you are looking for. Browse our selection now and find the best boat water filter for on your deck. Order today and soon enjoy delicious, filtered water during your sailing trip or boating vacation!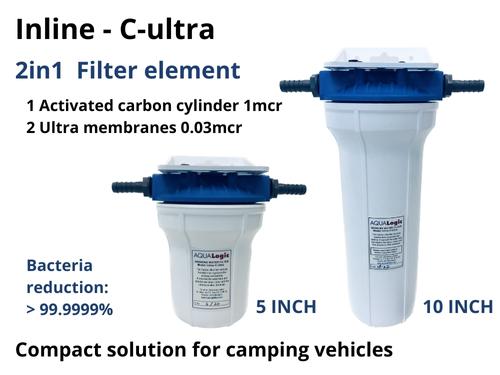 Water filter for boat
Using a boat drinking water filter is simple. To begin with, it is important to choose the right type of water filter for your specific needs. All of our water filters consist of two filter elements, activated carbon combined with ultra membranes. This powerful combination provides 99.9999% bacteria reduction. Once you've chosen the right filter, it's time to install it. Get advice from us or a technician to attach it if you haven't done so before. An expert can easily attach the filter to your boat's water system. Make sure the filter is properly installed so that the water you drink or use for cooking is filtered. Monitor the filter's useful life and replace it before the filter elements become completely clogged. Check this regularly. The more often the filters are used, the sooner they should be replaced. This way, you can always enjoy delicious, filtered water during your boating vacations.
Filtering water on a boat
A water purifier on a boat is a smart way to always have access to delicious, filtered water during your vacations. That way you don't have to carry around PET bottles, which is better for the environment. Installation is easy to use: you connect the system to your boat's water system and it automatically filters the water when you need it. This can be used for drinking or cooking, for example. Our Aqualogic water purifiers for boats achieve a high bacteria reduction of 99.9999% and are therefore very safe to use. The drinking water on your boat will be safe to consume.
Boat water purification system
When should I replace my boat water filter?
The rule of thumb is to check your filter elements regularly. If you filter dirty water often, the filters are more likely to clog up than, say, if you only filter rainwater. If you want to use water from a river or lake to filter, and is this water very turbid, then again you are more likely to need new boat water filters.
Ask our experts for advice
Water filter boat; still have questions? Our experts are ready to answer them. Feel free to contact us and we will be happy to help you.